This article was originally published on _shift London.
It may nearly be Halloween, but new book Fashion Victims – the Dangers of Dress Past and Present proves that fashion has always danced with death
Combustible crinolines
Hoop skirts were fashionable in North America in the late 1860s. Formerly made out of horse hair, they were replaced at the beginning of the 19th century by a steel-cage. Women wore them under skirts to add volume to the dress.
Horsehair crinolines caused severe death to women and caught fire very quickly. The structure also caused a young girl to die at the age of seven when she played dress-up in her mother's dress. While jumping around, she got too close to the fireplace when the crinoline caught fire.
It didn't take long until horse hair petticoats got replaced with steel-cage crinolines. While they saved women from fire risk, they were heavy to wear, but not very wind resistant. Women got swept up by the wind into the sea or entangled in the spokes of train carriages, which caused them to get dragged down the streets.
The burning tutus
When you think about ballerinas, you probably think about tutus, tip-toe dancers and Natalie Portman's performance in the Black Swan. The beautiful memory of prima ballerina fades with the story of Emma Livry.
In 1862 at a rehearsal for the ballet-opera La Muette de Portici at the Paris Opera, while putting on her starched skirt, Livry accidentally came too close to a gas wing light. Her tutu set on fire, and she ran onto the stage screaming for help. A fireman managed to stop the flame with a blanket, but Livry suffered burns to almost half of her body. After eight months in terrible pain, she passed away at the age of 21.
At the time, all theatre costumes had to be flameproofed with a technique developed by Jean Adolphe Carteron called 'carteronnage'. Livry signed her death note by refusing to flameproof her tutus out of style choice.
Silk shawls 
Shawls caused drama from the very beginning. Too long and you were likely to get caught in a machine.
Famous American dancer Isadora Duncan was amongst the strangulated fashion victims. Waving her fans goodbye she got in a sports car wearing her shawl around her neck. Unkown to her, the fringes of her designer piece got stuck between the rear mudguard and the tyre. As the car accelerated, her shawl wrapped around the wheel and got caught in spokes, eventually snapping Duncan's neck back while the chauffeur was speeding down the famous Promenade des Anglais in Nice.
Hobble Skirts
Popular between 1910 and 1914, the hobble skirt trend was all about constriction. Cinched around the knees and ankles, women were barely able to move and walked down the streets in tiny steps. Boarding public transport or catching a train was virtually impossible.
Also called the 'hobbled' women, there were a couple of fatal incidents at the early stage of this trend. In 1910, a horse went off the racecourse bolting through the streets of Paris. The hobbled woman couldn't run fast enough, she fell, and her hair got caught in the horse's hoof. She got dragged through the streets and died of head injury.
Corsets
We all dream of the perfect hourglass figures of Hollywood – Dita von Teese, Sofia Vergara and not to mention Kim Kardashian. Some are  born with the right genes for an hourglass figure, others force themselves into waist shapers to achieve a tiny waist. Before Kim reignited the hype, corsets rose to popularity in the late 20th century. Not only did tight lacing cause women to have breathing problems but also their insides to be pushed down into the lower belly.
Reported by the New York Times in 1903, a woman aged 42 suffering from rheumatism had been prescribed stimulants by her doctor. She didn't recover and died soon after the doctor left. After an autopsy, it was clear that two pieces of corset steel had pierced her heart. Until her death, she never mentioned any pain nor noticed the steel spearing her body.
Crinolines won't make it back to the list of trendy items anytime soon, but the prima ballerina's tutus still makes a popular Halloween option. And the corset? Well, that's another story, but that doesn't mean that fright night shouldn't be about taking risks.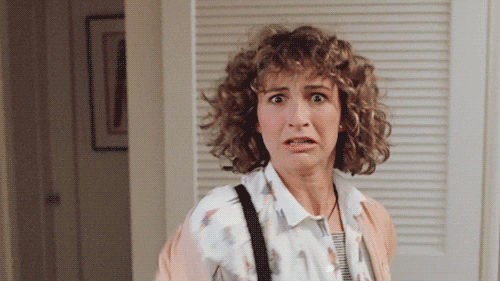 GIF Courtesy of Giphy.com