This article was originally published on _shift London. 
As Marks & Spencer launches a pair of heels for Christmas so surely inspired by Sex and the City , _shift takes a closer look at Manolo Blahnik's documentary Manolo: The Boy Who Makes Shoes For Lizards. The signature sound of Manolo Blahnik's clicking makes our inner fashion heart skip every-time a woman passes us by. Mr  Blahnik's delicacies have graced the feet of many from Michelle Obama to Princess Diana and Rihanna. Most notably, we recall Manolo Blahnik's from THAT Sex and the City scene when Carrie Bradshaw spots a pair of Mary Janes in the shelf gasping, "I thought it was an urban shoe myth."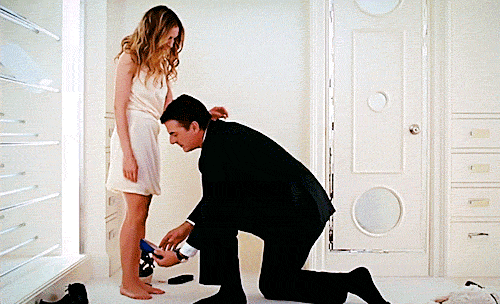 Directed by the fashion writer and editor Michael Roberts, the documentary rushes through Manolo Blahnik's biography that dwells on pop-culture and his ecstatic encounters with the celebrity circle. The film takes us through one of his first commissions, shoes for Kansai Yamamoto, that he had designed by hand in only a week. He called them The Brick. Blahnik told British Vogue, "I went under the arches in Portobello Road, and I bought an incredible amount of cork."
The shoe wizard was never a friend of fashion trends, nor was he of big movements. Born in Spain on the Canary Islands, he remained true to his brand's identity for nearly 50 years and his elegant and feminine style. Now with his first documentary out this year, we get a peek behind the curtains and a glimpse at his remarkable sketches. "I'm a doodler. It was my first job as a boy, and I still do it. At night I keep a block of paper and a pencil with a huge piece of string next to me. When I have an idea, I grab the string and just doodle," Manolo Blahnik told Elle UK in an interview this year.
The documentary shows insights into the designer's childhood up-close that until now remained undisclosed. Who knew that outfitting lizards with tin foil shoes in the back of his parents' garden marked his early days as footwear emperor? Ashlee Rose, final BA Fashion PR and Communication student at London College of Fashion says, "I love that they are very classic, feminine, and go with any outfit. They have a real sense of luxury to them and association with being a high-end purchase."
From a walk through the heaven of Manolos and sketches that make us feel hungry for a pair of crystal-buckled pumps we cannot afford, the film doesn't spare with surprises. All of that wouldn't be as exciting without Mr Blahnik himself on screen and his witty character. "I wanted to be photographed just from the back, which Robert said he'd do, but it is what it is. I'm not happy with seeing myself on the screen. It makes me vomit. I don't want to see my stupid face again," he told Elle UK before bursting out into a laugh.
With a documentary this year and an exhibition planned for 2020, one might think Blahnik is taking a break from his pen. "I love to do what I do. Are you kidding?" he tells Vogue. "I challenge myself. This is not good enough. I have to do better. This is what keeps me going — it's my nature. And people have really asked me a million times, Why don't you do glasses and things and hats, and blah blah. Are you out of your mind? I don't want to do that at all. No. I do shoes, and I do the best I can."